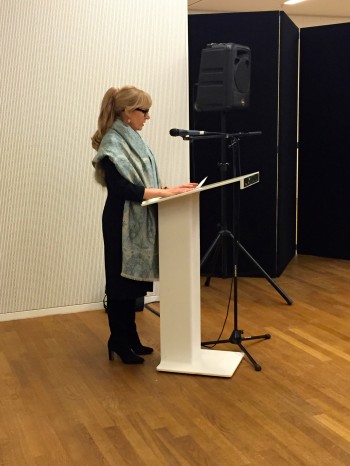 2015: Speech by Ms. Elizabeth-Sophie Mazzela di Bosco Balsa
Your highness prince Maurits van Orange-Nassau,
Distinguish director of the Rijksmuseum, mr. Wim Pijbes,
Distinguish director of the New Holland Foundation, mr. Oscar hefting,
Excellency's,
Ladies and gentlemen,
It is an honour and a joy for me to return to this prestigious institution that houses some of the most precious treasures of the Dutch golden age, among which works of the artists who accompanied Prince Johan Maurits van Nassau to brazil, almost four hundred years ago.
Brazil owes to Frans Post and Albert Eckhout its first paintings, engravings, gouaches and drawings of landscapes, fauna and flora, and portraits of native inhabitants that luxurious tropical land.
The works of these artists evoke the region of pernambuco at the northeastern coast of Brazil, under Dutch control until 1654. The influence of Johan Maurits of Nassau-Siegen, named governor-general of the Dutch territories in Brazil in 1636, by the powerful Dutch West India Company, constitutes a very important period of "enlightenment" in the formation of Brazil as a nation and as a state.
Not less important, and emblematic of the Dutch presence in Brazil, are the trading posts and forts that were established in the colony of "New Holland", which is the colony that the foundation here represented by Oscar hefting owes its name. I wish to thank Prince Maurits van orange-Nassau for his support to the New Holland Foundation, in particular in the research for the atlas of the Dutch Brazil.
I wish to convey the commitment of the embassy of Brazil in the Netherlands, and of the Brazilian government, to this fabulous archaeological and historiographical adventure initiated by the New Holland Foundation.
Together with Brazilian heritage institutions, the foundation is engaged in the research and preservation of valuable works and memories that constitute the early roots of the bonds that so deeply unite our two countries.
Ladies and gentlemen,
His majesty, king Willem-Alexander, once said that in his family history, there is probably only one distant relative who is much better known in brazil than in the Netherlands: Maurício de Nassau, also known as 'the Brazilian'. As a benevolent governor, he is remembered for his liberal policies and his patronage of the arts and sciences.
As our two countries embrace new challenges in this ever-complex world, cooperation is essential and crucial to our ties. The seeds planted by the Dutch colonizers in Brazil, brought to light in the works of the painters and the scientists that accompanied Maurício de Nassau have flourished. Brazil and the Netherlands have developed strong political and economic relations. More than 400 Dutch companies have established offices and factories in Brazil; among them shell, Phillips and Akzo Nobel – the latter a sponsor of the New Holland Foundation.
I strongly believe that there is a great potential for further strengthening our partnership, and grow together.
Thank you.
—
Elizabeth balsa
Ministra-conselheira
Embaixada do brasil
Mauritskade 19, 2514-hd
Haia, países baixos