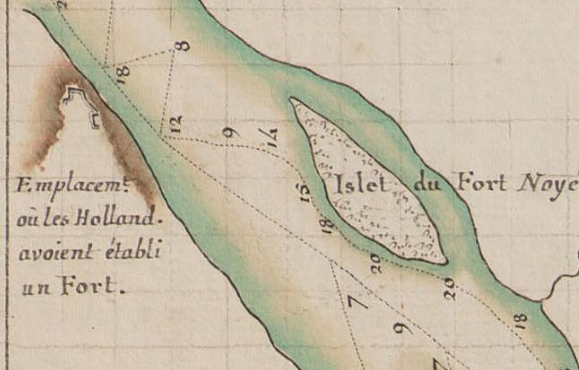 2016: Dutch Fort in the Approuague (French Guiana)
In 1654 the Dutch were driven out of their former colony New Holland in the northeast of Brazil. They fled to what was called the 'Wild Coast' in the northern part of South America between de Orinoco and the Amazon, which was known as Guyana. Despite the French takeover and English sackings, the colony remained alive until 1676.
The colony was protected by a fortification. The location was confirmed in 2012 by Lodewijk Hulsman and Martijn van den Bel in cooperation with Damien Henriot. In August 2016 a team of Dutch and French archaeologists started mapping the fort and surroundings. The project was financed by the French Ministry of Culture (DAC) where the Association Aimara took charge. On behalf of the New Holland Foundation Hans van Westing focused on the Dutch fortifications. The fort appeared to be consisting of a line with at least two redans.
In August 2017 trial excavations attempted to give more clarity on the appearances of the fortifications. The walls and entrance remain still to be found. However, artefacts have been found that indicate Dutch occupation. The large number of Dutch yellows bricks and rooftiles indicate that there were buildings at the fortification. The jungle has retaken much of the terrain and thus it is hard to map out the site. It is planned to continue the investigation next year.
Complete article (French):
Rapport Parwony Cimetière 2016 V optimisée
Image: FR-ANOM_14DFC128bisB : Carte des sondes de l'embouchure de la rivière d'Approuague
depuis le Grand et le Petit Connétable jusqu'aux îlets des Perroquets et du fort ; par M. de
Behague en 1764, Jean Pierre Antoine Béhague de Sept-Fontaines, 1764.
La même carte que 112A.